Tooth Extractions at Ranford Road Dental Centre
Gentle Tooth Removal in Canning Vale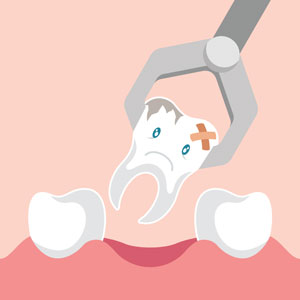 When instances of tooth decay or disease become too severe to treat or repair, it's typically best to remove the tooth so that infection does not spread elsewhere in the mouth.
You may want to consider having a tooth extracted due to:
Excessive damage, trauma or injuries
Impaction (wisdom teeth)
Addressing orthodontic concerns
Full mouth rehabilitation and reconstruction
Severe pain or abscesses
"Do I Need My Wisdom Tooth Removed?"
Sometimes wisdom teeth grow in at an angle or become impacted against other teeth due to limited space in the jaws. Such cases can lead to pain, crowding, swelling or damage to otherwise healthy teeth. Proactively removing your third molars can reduce common side effects or prevent them altogether.
To determine if your wisdom teeth should be removed or left alone, we will need to take a panoramic OPG X-ray that shows the positioning of your third molars compared to adjacent teeth, bone and nerve tissues. Depending on their size and development, we can let you know whether or not it is recommended to leave your wisdom teeth in place or have them extracted.
Comfort Options During Oral Surgeries
Dental extractions are a routine procedure but still considered a type of oral surgery. As such, we take particular measures to ensure your comfort at all times. In addition to numbing the area around the extraction site, we offer comfortable pain relief options to help you feel more relaxed throughout the procedure.
We're committed to providing a safe and gentle experience for every patient. If you have any questions about the process, please let us know.
Book a Consultation to Learn More
If you're considering having a tooth pulled or want a second opinion, we are happy to offer consultations for you or your child. Book online today to get started.
* Any surgical or invasive procedure carries risks. Before proceeding, you should seek a second opinion from an appropriately qualified health practitioner.
---
Tooth Extractions Canning Vale Thornlie, Southern River WA | (08) 9455 7388