Gum Disease Therapy at Ranford Road Dental Centre
Periodontic Care for Canning Vale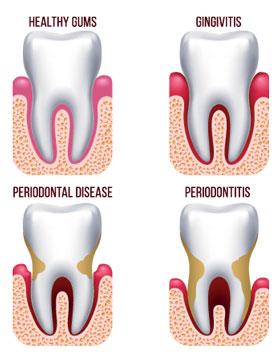 If you've ever experienced puffy or bleeding gums, you could be developing periodontal (gum) disease.
Periodontal infections affect the gums and bone surrounding your teeth; that is, the tissues that support them. Although the earliest form of gum disease – gingivitis – can easily be reversed with good home care, advanced periodontitis is so destructive that it ultimately leads to tooth and bone loss.
Oral-Systemic Health
Your mouth is the gateway to the rest of your body and a reflection of your overall health. When periodontal infections take root around your teeth, bacteria can spread through your body to other areas and organs, often becoming lodged within the cardiovascular system and thereby straining your immune response.
Active gum disease has been scientifically linked with other health conditions such as:
Stroke, high blood pressure and heart attack
Infertility (both men and women)
Respiratory diseases
Premature birth and preeclampsia
Diabetes
Fortunately, treating and eliminating active gum disease can boost your body's immunity and make it easier to manage underlying health conditions such as the ones mentioned above (not to mention saving your smile).
Treating Periodontal Disease
Most of our patients are used to scheduling a routine scale and clean every six months. But if it's been a long time since your last cleaning and there are signs of gum detachment, bone loss and heavy tartar buildup, a more thorough cleaning will be necessary.
These deep cleanings (scaling and root planing) remove calcified bacteria and plaque biofilm from below the gumlines, establishing a healthy environment for gingiva to reattach. Through dedicated home care and ongoing maintenance, we can halt the spread of periodontitis and delay tooth loss.
What Causes Gum Disease?
Periodontal disease occurs when mild gingivitis isn't treated at an early stage. Gradually, plaque biofilm accumulates under the gumlines and cause chronic infection, tissue detachment and bone loss.
Because the plaque calcify onto the tooth, they continue to harbor infectious bacteria and cannot be brushed or flossed away. Rather, your Hygienist or Oral Health Therapist will need to use special instruments to lift the deposits.
Want to Learn More?
If you've noticed that your gums are bleeding, receding or you have chronic bad breath, book an appointment online to find out how we can help.
CONTACT US
* Any surgical or invasive procedure carries risks. Before proceeding, you should seek a second opinion from an appropriately qualified health practitioner.
---
Gum Disease Treatment Canning Vale, Thornlie, Southern River WA | (08) 9455 7388